2.1 The RUF standard
All vehicles in the system have to comply to the worldwide RUF standard in order to be able to be closely coupled in RUF-trains and in order to communicate correctly with the overall traffic control system.
The vehicles can be produced in many different variations within the standard, so the customers can enjoy a wide selection of RUFs from different RUF-manufacturers.
The standard defines the detailed dimensions required for the interface between the RUF and the guideway. The interior and exterior design can be just as attractive as in modern cars.
2.2 RUF performance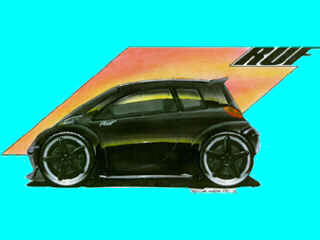 There are no upper limits to the performance of a RUF.
The minimum requirements are:
1) It must be able to reach 100 km/h on the rail and 80 km/h on normal roads.
2) It must have a range of 50 km on fully charged batteries in order to bring passengers to their destinations in the city.
RUFs may be purely electric vehicles, but they can also be hybrid vehicles (including a gasoline tank, a small motor running at constant speed and a generator producing electrical power).