Click on the picture to obtain a better resolution version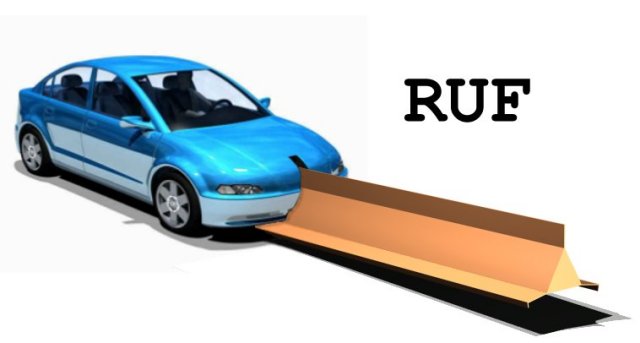 Text:
A ruf can enter the monorail at 30 km/h (20 mph)
The monorail is a triangular very simple construction.
The ruf "rides" on top of it very safely.
Danish:
Billedtext:
En ruf er i stand til at køre fra vej til skinne ved 30 km/t.
Skinnen er en trekantet monorail som ruf'en "rider" stabilt ovenpå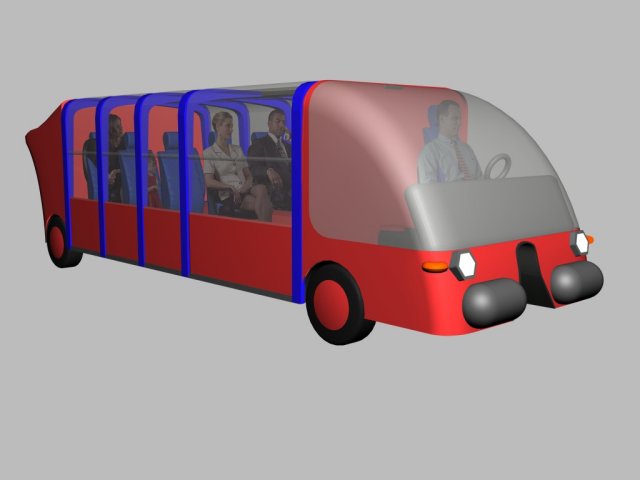 Text:
The maxi-ruf is a 10 passenger Dual Mode bus. It can be driven by a chauffeur or drive automatically on the guideway.
Access is extremely easy since every seat has its own door.
Every passenger has a seat and all the seats are single seats.
There is room for a wheel chair or a baby carriage.
Danish:
Billedtekst:
Maxi-ruf'en er en 10 personers elektrisk bus. Den kan køre som telebus med chauffør eller som automatbane på skinnen.
Adgangen er meget nem, da alle sæder har sin egen dør.
Alle passagerer har et sæde og alle sæder er enkeltsæder.
Der er plads til en kørestol eller en barnevogn.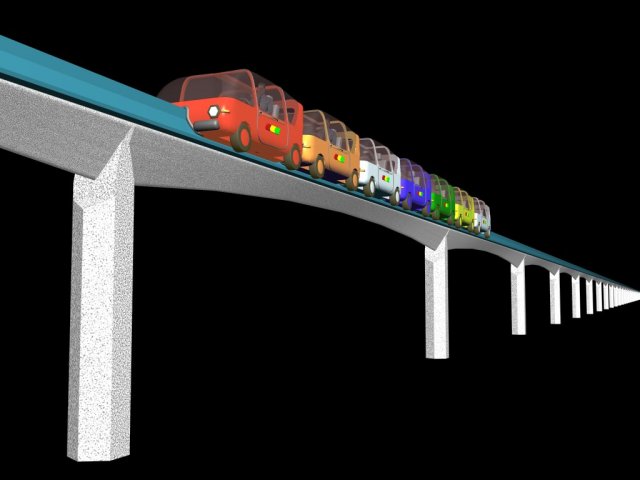 Text:
On the monorail, the rufs are closely coupled to form a train.
The top speed is 150 - 200 km/h. At junctions the speed is 30 km/h.
Average speed in a typical system is 120 km/h
Danish
Billedtext:
Oppe på skinnen "klumper" ruf'erne sig sammen til små tog og speeder op til tophastigheden på mellem 100 og 200 km/t.
Jo længere der er mellem afkørslerne, jo højere er hastigheden.
Text:
At junctions, the rufs drive 30 km/h and they are guided by magnetic fields in the road surface.
The driver tells the system in advance where he wants to go, so that the system can guide the vehicle automatically through the network of monorails.
Once the ruf is near to its destination it is guided off the monorail and the driver takes over control again.
If the driver has fallen asleep, he will be parked automatically next to the guideway so he doesn't disturb the traffic.
Danish
Billedtext:
Ved afkørslerne nedsættes farten til 30 km/t og ruf'erne fletter automatisk så man kan skifte skinne eller forlade systemet.
Inden man bliver kørt op på skinnen fortæller man hvor man skal hen, så systemet ved hvornår ens ruf skal kobles fri af toget og sendes tilbage til vejnettet.
Først når ruf'en er fri af skinnesystemet, overtager man selv styringen. Hvis man er faldet i søvn, bliver ruf'en automatisk parkeret.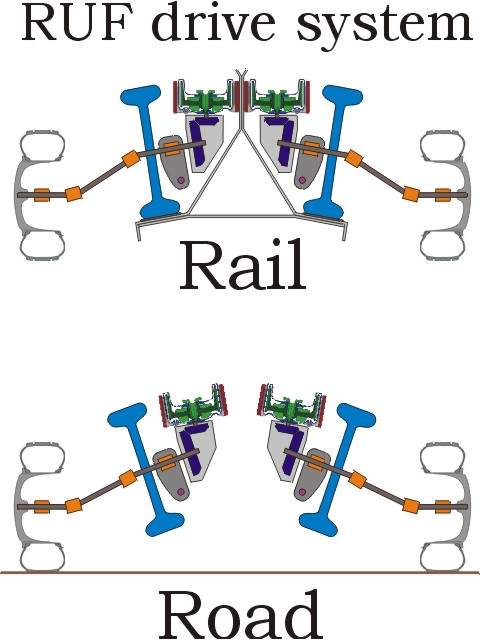 Text:
The RUF system is a Dual-Mode system. It can use the roads or a special triangular monorail.
A ruf uses 2 wheel motors for propulsion. They are connected to both rail wheels and road wheels via simple cardan joints.
The wheel motors are placed inside the drive wheels at the top of the monorail.
They are hinged so that the pressure against the rail can be adjusted. High pressure means high friction and steep grades (20%).
Low pressure means low friction and low rolling resistance.
Before entering the rail the drive wheels are tilted to create a gap which allows the ruf to enter the monorail guided by magnetic fields.
No differential is needed.
Normal braking is performed via the wheelmotors (95% efficient) regaining part of the energy.
Danish
Billedtekst:
RUF systemet er et Dual-Mode system. Det betyder at det både kan bruge de almindelige veje og en særlig trekantet monorail.
En ruf bruger 2 hjulmotorer til fremdriften. De er forbundne både til vejhjulene og til skinnehjulene via simple kardan led.
Hjulmotorerne er placeret inde i drivhjulene, som trykker mod toppen af trekantskinnen.
De er hængslede sådan at trykket mod skinnen kan justeres. Højt tryk betyder stor friktion og dermed mulighed for stejle stigninger (20%).
Lavt tryk betyder lav friktion og dermed lav rullemodstand.
Før ankomst til skinnen er drivhjulene drejet så der opstår et gap mellem dem. Det gør det muligt for ruf'en at komme op på skinnen
styret af magnetfelter i vejbanen.
Der er ikke brug for et differentiale.
Normal bremsning anvender hjulmotorerne (95% effektive) hvorved en del af energien genvindes.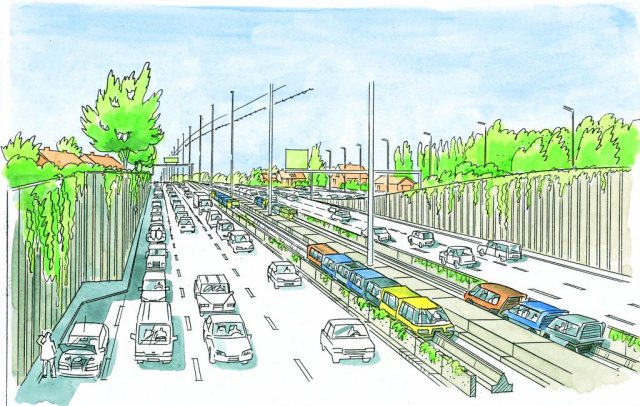 Text:
A RUF rail in the middle of a highway can add new capacity to the road, so that congestion can be avoided.
Commuters can log on to the Internet and work electronically while they commute. They can earn money while they commute and with no safety risk.
The energy consumption per vehicle is very low when the rufs are closely coupled because the air resistance is greatly reduced.
Danish
Billedtext:
En RUF skinne i midten af en overbelastet motorvej kan tilføje ny kapacitet, så køproblemer på motorvejen kan undgås.
De, der kører i en ruf til arbejdet, kan bruge tiden konstruktivt. Via ruf'ens computer kan de arbejde undervejs og tjene penge mens de pendler.
Energiforbruget bliver meget lavt når ruf'erne er koblet helt tæt sammen fordi luftmodstanden reduceres kraftigt.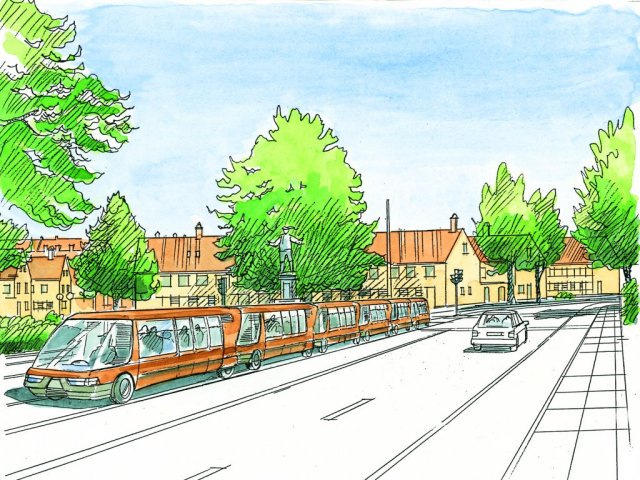 Text:
The RUF system is also public transport based upon the maxi-ruf electric bus with room for 10 passengers.
The maxi-ruf can collect passengers at their doorstep. A chauffeur will bring passengers to the monorail where the maxi-ruf becomes part of a train.
The passengers can remain seated while the chauffeur leaves. He is not needed on the monorail where it drives automatically.
Inside the city the maxi-ruf leaves the monorail and becomes a part of a "tram".
A RUF tram needs no rails since it runs on rubber wheels. Establishing cost will be very low.
A RUF tram needs no overhead wires since it runs on batteries inside the city. The batteries can be recharged while it drives as a train.
Danish
Billedtext:
RUF systemet består ikke kun af ruf-biler. En Maxi-ruf er en lille elektrisk bus med plads til 10 passagerer.
Maxi-ruf'en kan bringe folk fra dør til dør hvis de ønsker det.
Man kan blive hentet ved sin bopæl af en maxi-ruf med chauffør. Han kører til skinnen, hvor maxi-ruf'en bliver til en del af et tog. Passagererne kan blive siddende mens chaufføren stiger ud, da toget kører automatisk. Inde i byen fortsætter maxi-ruf'en som sporvogn.
En RUF sporvogn kører på batterier så der er ikke brug for luftledninger.
En RUF sporvogn kører på gummihjul, så der er ikke brug for skinner.